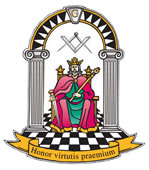 Courts
The Masonic Order of Athelstan is a relatively new order having been formed in 2005. The ceremonial aspect uses legend and allegory to tell a story and highlight good ethical conduct and behaviour. The Order uses the legend of Athelstan's York Assembly of 926 as a framework and conduit, aiming to bring to life the 926 Court held in York to educate and raise the quality of masonry in 10th Century England and in so doing to prompt further study and research. As such meetings are held in a Court and candidates are 'Instructed' into the Order. For further information visit the Grand Court Website.
There are a number of Courts throughout an extended area of Essex, with one appendent Court in North Essex meeting at Colchester:
Court of Aethelflaed No. 49
The Order of Athelstan in Colchester is brought to life by the Court of Aethelflaed which was consecrated at Wivenhoe in September 2008 and which now meets at St.Giles Masonic Centre in Colchester. Named after the daughter of King Alfred (the Great), the self styled warrior Lady of the Mercians who took care and educated her nephew, the young Athelstan. Some would say that if she hadn't died early, that she would have been a good candidate for being first Queen of all the English. It is a pre-requisite of joining the Order that candidates are members of the Craft and Royal Arch. The court meets three times a year: 1st Friday in February, 3rd Friday in May and 3rd Friday in November (Installation). Contact Barry Jones for more details.
Other courts in the Province of Essex*
* The Province of Essex does not follow modern boundaries and is extended into parts of Middlesex and Hertfordshire.
Watling Street Court No. 3 - Consecrated at Radlett 2005. Meets at the Masonic Hall, Rose Walk, Radlett, Hertfordshire 2nd Thursday March, 2nd Thursday June and 3rd Thursday December (Installation).
Wulfhelm Court No. 4 - Consecrated at Chingford 2006. Meets 3rd Thursday January (Installation), June and November.
Court of St. Ambrose No. 8 - Consecrated at Letchworth 2006. Meets at The Cloisters, Barrington Road, Letchworth, Hertfordshire 4th Thursday February, 3rd Thursday May (Installation) and 3rd Thursday November.
Saxon Court No. 20 - Consecrated at Southend 2007. Meets at Saxon Hall, Aviation Way, Southend-on-Sea, Essex 1st Thursday March (Installation), June and November.
Lundenwic Court No 51. - Consecrated in London 2008 and meeting at the Royal National Hotel, Russell Square, London 4th Thursday in March, 4th Tuesday in June and 2nd Tuesday in October (Installation).
Lundenburh-atte-Clerkenwell Court No. 64 - Consecrated at Clerkenwell in 2010, it now meets at The Civil Service Club, London. Meets 3rd Thursday February, 4th Friday May (Installation) and 1st Thursday September.