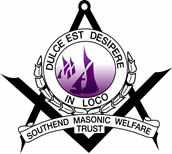 The Southend & Essex Masonic Welfare Trust is a registered charity (No. 266577) and an important feature of the objectives of the Trusst is the supply on loan free of charge, equipment to aid the recovery of those suffering from illness or recuperating from surgery. This service is available to all Freemasons and their families in the Province of Essex.
The contact number for all enquiries is 07732 378656
Equipment Availability
The following is a flavour of the range of equipment which the Trust has in its inventory, but other items may be available:
Manual Wheelchairs
Three & Four Wheeled Walkers
Elbow Crutches
Zimmer Frames
Tripod Walking Sticks
Commodes
Toilet Seat Height Adjusters
Blanket Support Frames
Bed Tables
Flotation Cushions
Portable (wheeled) tables
Careline
The Trust operates a Careline Emergency Telephone Service. For further information and detail call the number below.
Distribution
The main distribution point for all equipment is the Masonic Centre at Saxon Hall, Aviation Way, Southend-on-Sea, SS2 6UN. The contact number for enquiries and collection is 07732 378656.
The Trust now has equipment local distribution points all over Essex, where limited equipment (typically manual wheelchairs and 3 wheeled walkers). For Colchester, Manningtree, Brightlingsea and Mersea Island only contact Paul Masters: Tel: Col. 520485.